4/21/13
My "gifts" for today
427. Phone calls to sisters near and far to ramble about speaking at Falls Creek (my church camp I grew up attending) this weekend.
428. Intervening physicans
429. Made plans to eat lunch with my Iranian friend and her Uncle tomorrow. Can't wait!
430. Quick
run
jog through the neighborhood for 15 min. straight (haven't ran in months)(Hope I can walk tomorrow)
431. Met my oldest daughter walking home from school.
432. Everyone liked my original pasta recipe for dinner.
433. Walk to the neighborhood park right after dinner.
434. Met a lady at the park that attended my breakout session at Falls Creek this weekend (visiting her mom from across town). Too cool!
435. Stepped in dog poop on the way home (good laugh, but nasty clean-up) (By the size of the poop, I think we have horses living in this metropolitan neighborhood).
435. Oldest daughter, early bedtime, testing tomorrow :)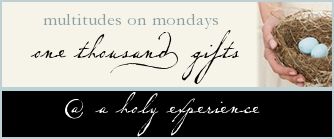 What are you thankful for? Have you started a thankful journal?